Long-life Juice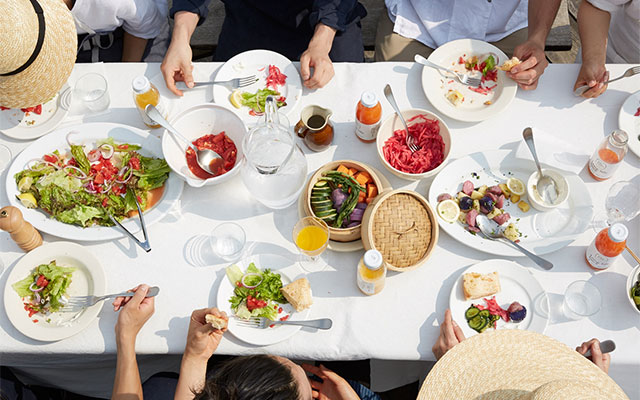 Active, Anytime,
Anywhere
人間も自然の一部。
都心で生活をしていても、緑のなかで過ごす時間がほんの少しでもあると、心をすっきりクリアにしてくれます。
家の近くで、青空ヨガ、ガーデニングや畑仕事、ピクニック。
少し足を伸ばして、キャンプ、ボルダリング、サーフィン、森の中をドライブ……。
太陽の下、美しい自然のなかにいるからこそ、体が喜ぶものを食べたいし、飲みたい。
Why Juice?は、野菜のおいしさをいつでもどこでも気軽に手軽に外に持って行けるようにLong-life Juiceを開発しました。
国産の無農薬・減農薬など栽培方法にこだわった野菜を絞り、低温殺菌して瓶詰めに。
野菜の力がぎゅうと詰まった、保存料や食品添加物などいっさい使用していない100%の野菜ジュースです。
Humans are a part of nature.
Even if you live in a big city, a short break in the greenery will refresh your spirit.
Near your house, you may do outdoor yoga, work in your garden or in a field, or have a picnic.
You may take a trip and go camping, bouldering, surfing, or go for a drive through the forest...
When you are surrounded by the beauty of nature under a blue sky,
you especially want to eat and drink things that make your body happy.
Why Juice? has developed Long-life Juice, so that you can conveniently take the taste of fresh vegetables outdoors.
Our juices are pressed from locally-produced vegetables that are selected with care to avoid pesticides as much as possible, before being pasteurized at low temperatures and bottled.
Our Long-life Juice is 100% pure fruits and vegetable juice without any preservatives or additives. It is packed full of the goodness of nature.
Q&A
Q. ロングライフジュースはコールドプレス製法で作っていますか?

Q. Is Long-life Juice made with a cold press juicer?

A. コールドプレス製法とは異なり、機械の中で果汁と果実が分離されるスムージータイプのジューサーで搾汁しています。

A. It is made with a slow juicer, which extracts juice in a rotating machine by separating the juice from pulp.

Q. なぜ1年間の長期保存が可能なのですか?

Q. Why can the juice be stored for as long as 1 year?

A. 野菜ジュースは85〜95度の低温殺菌をし、pH値を一定に保っているため、長期保存が可能です。

A. The juice is pasteurized at a temperature of 85-95 C, and the pH value is kept at a certain level to enable long-life.

Q. いつ、どこでジュースを作っていますか?

Q. When and where are the juices manufactured?

A. 新潟の山あいにある工場で手仕事によって製造しています。有機栽培の農園を併設した工場で、原料となるお野菜も一部この工場で作っています。野菜の栽培については詳しくはこちら A. They are manufactured by hand at a factory in the mountainous area of Niigata prefecture all year round. The factory has an organic farm alongside it, where many of the ingredients are grown. Click to know more about the vegetable produce.

Q. Long-life Juiceでクレンズはできますか?

Q. Can I cleanse with Long-life Juice?

A. Detox Juice Programは、さまざまな野菜やフルーツを使ったコールドプレス製法のジュースを組み合わせたセットで、消化器官を休めながらも、生の野菜やフルーツの生きた栄養素を幅広く摂取することができます。デトックス効果だけでなく、内臓の働きを高める、肌のトーンが明るくなる、など身体機能全体を活性化する作用も高いのが特長です。(作用には個人差があります) Long-life Juiceは、ジュースを搾った後に低温殺菌しているため、摂取できる栄養素は生の状態の野菜と異なります。また野菜のパルプが多少残るため、固形物を完全に断つことができません。 摂取カロリーを抑え、野菜不足を補う栄養補給として日々の生活に取り入れていただければと思います。

A. Our Detox Juice Programs consist of cold pressed juices made with various fruits and vegetables. While resting your digestive system, you can absorb raw nutrition from fresh fruits and vegetables. By detoxing your body, you are likely to feel your body functions are strengthened , like a revitalized digestive system and brighter skin tone, (the effects show up differently in each individualy.) On the other hand, Long-life Juice is pasteurlized at a low temperature after it is squeezed and bottled, and the nutrition is different from when in their raw state. Some amount of pulp is left in the liquid, so these juices are not suitable for consumption when fasting. The Long-life Juice caters for those who wish to limit calorie intake and supplement vegetable nutrition, instead of replacing meals for cleanse purposes.
健康を気にする大切な人への贈り物に、Long-life Juiceの詰め合わせはいかがでしょうか。
3本、6本、12本のセットが下からお選びいただけます。
Why not treat your health-conscious loved ones to the gift of a mixed box of Long-life Juice?
You can choose from the following sets of 3, 6, and 12 bottles.
卸ご希望の小売店様へ

For retailers interested in purchasing our product

Why Juice? Long-life Juice お取り扱いご希望の
小売店様はこちらよりお問い合わせください。

Please contact us from the below link to stock Why Juice? Long-life Juice at your retail store(s).