Cold Pressed
Juice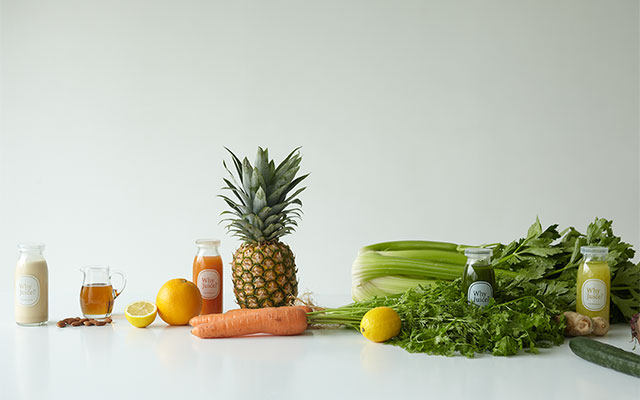 Fresh, Relax, Beauty
時間がない毎日でも心身の調子を整えるには野菜の栄養をとることが必要です。Why Juice?のCold Pressed Juiceは、手軽で吸収が早く効率的。さまざまな野菜の栄養が、代謝と免疫を高め、クリアで強い体へと導いてくれるはず。
野菜やフルーツを細かく砕いてから、袋に詰めてプレス。栄養素を絞りきるコールドプレスは、素材の栄養素が失われるのを最小限におさえます。また、パルプ(果皮などの固形物)を取り除いたクリアな液体ですっきりと飲みやすいのも特長。胃腸への負担が少なく消化しやすいため、デトックスにもパーフェクト。全国から取り寄せた無農薬、減農薬で栽培された野菜とフルーツを使用し、なかでも一番栄養素が高くなる"旬"のものを選出しています。
野菜をそのまま丸ごと食べているかのような、フレッシュな絞り立てジュースをご用意しています。保存料や食品添加物は一切使っていませんので、その日のうちに飲んでください。
Even though time is short every day, it is essential to consume the goodness of vegetables in order to maintain a healthy mind and body.
Why Juice? Cold-Pressed Juice is effective, while being quick and easy to consume.
A range of vegetable nutrients speed up your metabolism and build immunity, leading to a strong, refreshed body.
After fruit and vegetables are finely pulverized, they are placed in a bag and pressed.
The cold-pressed method extracts the maximum amount of nutrients while minimizing nutrient loss.
A feature of our juices is that we remove the pulp (solids such as skin) to produce a clear and refreshing drink.
Our juices are easy to digest and place minimum stress on the stomach, so they are perfect for detoxing.
We select the freshest fruit and vegetables from around the country, when nutrients are at their peak, produced without pesticides or with minimal pesticides.
Our freshly squeezed juice is as though you were eating whole fruits and vegetables.
We use no additives or preservatives, so please consume our juices on the day of purchase.
Why Juice?のCold Pressed JuiceとDetox Juice Programsはコールドプレス製法を用いて製造しています。コールドプレス製法とは、砕いた野菜を圧力でゆっくりと潰して搾汁する方法です。製造の過程で極力野菜に熱を加えずにその栄養素を壊すことなく生きたまま抽出することができます。細かい繊維のフィルタを通すため、パルプ(果皮などの固形物)が取り除かれたクリアな液体が抽出され、すっきりと飲みやすく、胃に負担が少ない、デトックスにもパーフェクトなドリンクとなります。スムージー(野菜やフルーツなどを牛乳やヨーグルト、水などと一緒にミキサーに入れてブレンドしたシェイク状の飲み物)とは異なる製法です。
Why Juice? Cold-Pressed Juice and Detox Juice Programs use the cold-pressed extraction method. The cold-pressed extraction method extracts juice by slowly squeezing crushed vegetables. Through this process, the vegetables undergo high pressure, but no heat, in order to extract nutrients without destroying them. By passing the juice through a fine fiber filter, the pulp (solids such as skin) is removed, leaving a clear liquid, which is refreshing, easy on the stomach, and the perfect drink for detoxing. This is different from a smoothie (which is made from vegetables and fruit that are blended with things such as milk, yogurt, or water).